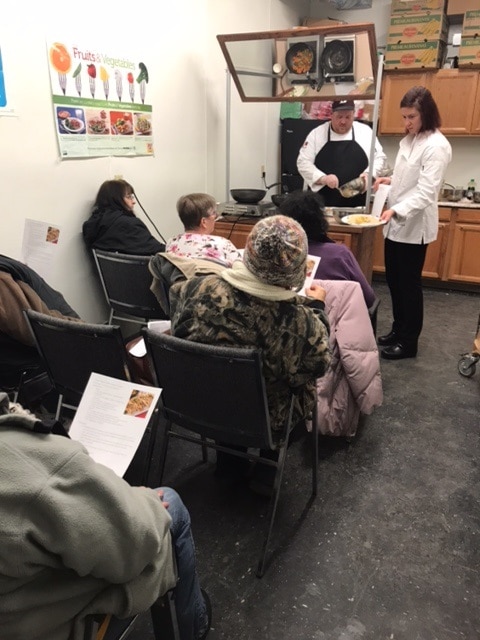 For the past decade, WAFER Food Pantry's Board of Directors has searched for a new facility to relocate operations. There are several significant factors that necessitated relocation, the most important of which is that we have physically outgrown the current facility and the ability to carry out the mission effectively.
In response to community needs, several programs were added in the last 10 years; food package delivery to seniors, weekend backpacks to food insecure children in Bangor, Nutrition Education, and Mobile Food Pantry distribution.  Each program is extremely important for underserved populations, yet require dedicated facility space.
Our too tight facility prohibits capitalizing on all food donation opportunities.  A larger facility will provide opportunities to recover more healthy foods and create an environment where patrons feel cared for in a space that provides a dignified shopping experience.  Sometimes the hardest thing is just getting people to walk through our doors. A welcoming space will go far in reaching people.
The facility on Causeway Boulevard is the lowest point in La Crosse. Heavy rains, a high river level, and spring melt-off all contribute to flooding risks.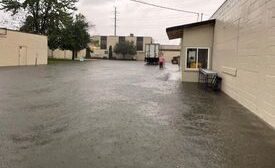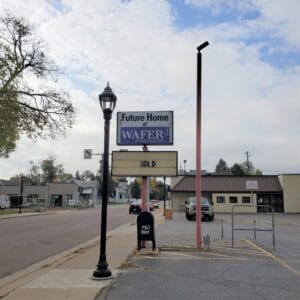 **Please check back frequently for updates throughout the renovation and relocation process.  We are excited to share this next step in WAFER's history with you and look forward to the future of continued service to the community.
The work is beginning today!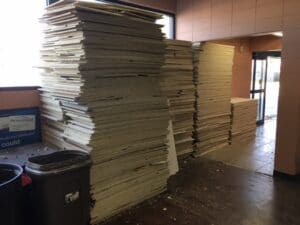 The building planning committee has been meeting since September. Frequency of meetings has increased to one time weekly now to lay out plans for logistics, flow, equipment placement, warehouse organization, and more. The plan is so close!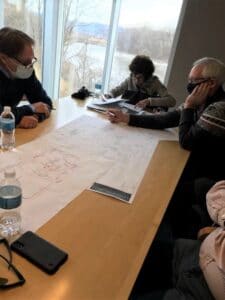 WAFER receives a portion of the $2 million ARPA (American Rescue Plan Act) funds designated for La Crosse non-profits. The award will be used to partially fund the walk-in cooler and freezer project. You can see the press conference announcement here. Our thanks to WIZM for the photo.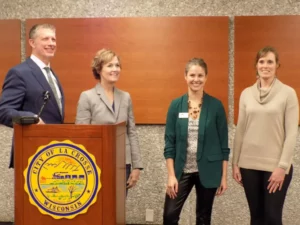 The building plans are nearly complete. The building planning committee (comprised of staff and board members) met with the architects, engineers, and consultants to discuss internal and external lighting, rainwater mitigation, surveillance, networking, finishes, workstations, and more.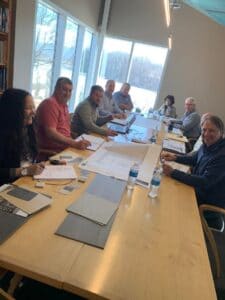 Local construction companies had an opportunity to hear the scope of the project, ask questions directly to the architects, and visually inspect the facility at this pre-bid meeting. Construction companies will have until the second week in May to submit proposals for renovation.

Construction bids have been received and are being read aloud. The Board of Directors will meet to review the options and make a decision on which bid to accept.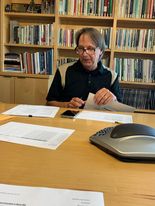 Fowler and Hammer was selected for the renovation and construction project. Today, the contract was signed by Board President, Taylor Haley.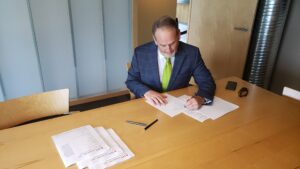 After more than a decades long search, a groundbreaking ceremony was held to kick off the renovation and construction project. 
Board members, staff, volunteers, and many supporters participated in this historic event. 

Today was the very first sub-contractors meeting. We discussed the project timeline, state approval of building plans, and the most immediate next steps.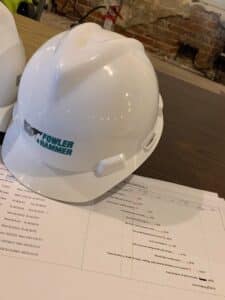 The cement trucks are lined up and working on internal renovations today.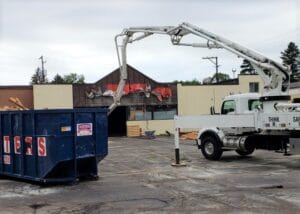 Bi-weekly meeting today, the project is nearly on schedule.
Major internal structure projects (addressing the original early 1900's building basement, floor drain) are close to complete. Footers for the north and west walls are being prepped.